<![if !vml]>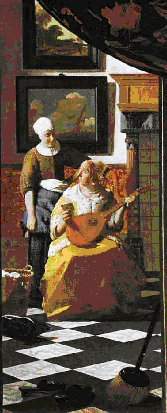 <![endif]>
MUSC 316/PHIL 300
Philosophy, Music and the Arts
Dr. Cockey's Office Hours:
            Telephone:
Dr. Hatley's Office Hours: MTuW 4:15-5:15 pm
            Telephone: 7-5072
Course Description: This course will focus on a series of philosophers who address the arts, as well as to specific works of art that might help us to understand the ideas of these philosophers. Philosophers have turned to the arts to reflect upon themes pivotal to our human existence:  a) Why do we desire the beautiful and what does it mean to contemplate beauty?; 2) How does ugliness, as well as catastrophic or monstrous events, find significance in our lives?; 3) How do pain and suffering find a transformed expression in the work of art?; 4) How does artistic form and rhythm reflect spiritual dimensions of our existence?; 5) How does art encourage philosophical questioning through inviting us to wonder at the simple fact of seeing and hearing?  Often in courses of this type, discussion is promoted by either a practicing artist or a reflective thinker.  In our effort, we're bringing to two together to see what can happen.  Music, cinema, visual arts and literature will all be considered in pursuing our philosophical investigation.
Texts:
The Nature of Art: An Anthology (AS), Thomas Wartenberg
All the World's Mornings (WMN), Pascal Quignard (Xeroxed)
Four Essays from Questions about Music, Roger Sessions (Xeroxed)
One Novel from the List below for the "Novel/Film Presentation"
Films:
Persona, Ingmar Bergman (Sweden)
Single, White, Female, Barbet Schroeder (United States)
All the World's Mornings, Alain Corneau (France)
Schindler's List, Spielberg (United States)
On Library Reserve:
"The Significance of Film Form" from Film Art: An Introduction, (FA), Bordwell and Thompson
The Unanswered Question: Six Talks at Harvard University (Leonard Bernstein)
"What Novels Can Do That Films Can't (and Vice Versa)," Chatman
"Music: A View from Delft," Edward Cone
"Form and the Divine Proportion"
Grading:
8 (out of 11!!!!) weekly questions:                    16%
Response Paper 1:                                            20%
Response Paper 2:                                            20%
Response Paper 3:                                            20%
Class Presentation on Novel and Film:               20%
Participation                                                     04%
Assignments:
TYPING: All Papers turned in for a grade in this class must be typed.  No exceptions will be made to this rule.  Any paper handed in that is untyped will receive an incomplete until it is typed.  If it remains untyped, the paper will be graded as an F.
Writing Across the Curriculum: This class emphasizes both discussion and writing as ways of learning.  In addition to the assignments listed below, you will be asked to participate in a variety of in-class discussion and writing exercises that will emphasize collaborative and cooperative learning.
Response Papers: Response papers are the principal manner in which your grade will be determined.  They will be assigned roughly every four weeks and require that you write a four page essay in which you will respond thoughtfully to a question pertaining to what we have been reading and discussing in class. A response paper should make use of citations from the text(s) appropriate to the question to be answered.  In a response paper you are to give reasons for any position you take. The question "Why?" should always be in the back of your mind as you write.
Reading Questions: Each week two to three questions will be posted on the web syllabus and sent to you via your university email address concerning readings for the upcoming week.  These are due the following week at the beginning of class before discussion of the reading begins.  By the end of the semester, 9 sets of reading questions should have been turned in.  This allows you not to turn in reading questions for three weeks (not counting the first week of class).If reading questions are turned in late, the best grade they can receive is a C!
NOVEL/FILM PRESENTATION:  Students will work in groups of four to give a presentation during our last two classes of around 20 minutes in length.  The presentation will analyze the differing manners in which a film and the novel on which it was based bring us, the reader or viewer, to aesthetic insight.
List of Novels and Films:
<![if !supportLists]>1) <![endif]>Interview with a Vampire (Anne Rice and Neil Jordan)
<![if !supportLists]>2) <![endif]>Girl with a Pearl Earring (Tracy Chevalier and Peter Webber)
<![if !supportLists]>3) <![endif]>Cold Mountain (Charles Frazier and Anthony Minghella)
<![if !supportLists]>4) <![endif]>To Kill a Mockingbird (Harper Lee and Robert Mulligan)
<![if !supportLists]>5) <![endif]>The Unbearable Lightness of Being (Milan Kundera and Philip Kaufman)
<![if !supportLists]>6) <![endif]>The Accidental Tourist (Anne Tyler and Lawrence Kasdan)
<![if !supportLists]>7) <![endif]>Pride and Prejudice (Jane Austen and Joe Wright)
<![if !supportLists]>8) <![endif]>The Chosen (Chaim Potok and Jeremy Kagan)
<![if !supportLists]>9) <![endif]>Hillary and Jackie (Jaickie/Piers Du Pré (A Genius in the Family) and Anand Tucker)
<![if !supportLists]>10) <![endif]> Brokeback Mountain (Annie Proulx and Ang Lee)
<![if !supportLists]>11) <![endif]>  Amadeus (Peter Shaffer and Milos Forman)
WRITING CENTER: At the University Writing Center at Herb's Place, trained consultants are ready to help you at any stage of the writing process. It is often helpful for writers to share their work with an attentive reader, and consultations allow writers to test and refine their ideas before having to hand papers in or to release documents to the public. In accordance with Salisbury University's mission to foster a student-centered learning community, the writing center is a student-centered place; therefore, visits are not mandatory. However, all undergraduates are encouraged to make use of this important student service.
HONOR CODE: Each written assignment should be accompanied by the following statement, dated and signed by the student: "This assignment was written entirely by me in my own words, except for quotations from and references to another person's work, which I have been careful to point out.  I have in no way made use of the words or ideas of other persons without attribution."   
Helpful Websites
New York Metropolitan Museum of Art
WEEKLY PROGRESS
Week 1 (8/31):  What is Aesthetics?
Film Viewing: Persona
Lecture: Discussion of Film Aesthetics  
Week 2 (9/7):  Low Art and High Art?
Reading Assignment: "The Significance of the Film Form" (On Library Reserve)
Film Viewing: Single White Female
Week 3 (9/14): Art for Art's Sake, or Not?
Reading Assignment: NA Kant and Tolstoy, pp. 49-63; pp. 102-109.  Powerpoint on Kant and Tolstoy
                Web Summary: Go To: Kant
Response Paper I:  Using Kant as your guide, compare and contrast the aesthetic response elicited by SWF with that by Persona.  Which film is more artful and why?  In answering this question, you should make use of key Kantian concepts such as aesthetic judgment, taste, feeling, beauty, disinterested interest, genius, the sublime and the like.  You may also want to dwell on how Persona seems to adopt an aesthetic that is at odds with the beautiful and is more at home in the sublime. You can also turn to Tolstoy to help out your analysis.  Persona Images
Week 4 (9/21): Philosophy in a Musical Key (How to Listen to Music)  Notes  Powerpoint on Hartmann's Paintings
Audition: "Young Persons Guide to the Orchestra" (Benjamin Britten), Folk Music
Reading: "Hearing, Knowing and Understanding Music" and "Talking—and Thinking—about Music," Roger Sessions
Week 5 (9/28):  Musical Evening: Music as Significant Form  NOTES
Audition: Mozart's Symphony # 40 in g minor, Eine Kleine Nacht Musik (Mozart), Bolero (Ravel), Midsummer's Night Dream (Mendelssohn), Beethoven's Fifth Symphony in c minor
Reading Assignment: "A View from Delft" (Library Reserve)
<![if !vml]>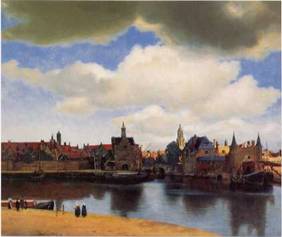 <![endif]>    Larger Image
Week 6 (10/5):  A Cinematic Rendering of the Viola da Gamba
            Reading Assignment: "Performing Music" and "Composing Music," Roger Sessions
            Film Viewing: All the Mornings of the World
            Audition: Viola da Gamba
            Website: Notes from Dick Moleants and Audition of St. Colombe Concert Excerpts
Carl Abel: The Last Player of the Viola de Gamba   Notes on St. Colombe and the Viola de Gamba
Weeek 7 (10/12): Literary and Musical Evening: All the World's Mornings
Reading Assignment: All the World's Mornings (Pascal Quignard)  Power Point
RESPONSE PAPER II:  "Film vs. Novel:  An Assessment of Aesthetic Strengths and Weaknesses."  Compare the novel and the film All the World's Mornings in regard to their aesthetic qualities.  Pay attention to the possibilities each medium brings to the aesthetic experience.  Evaluate which work of art you consider more successful., or whether that judgment in this particular case is impossible (and why!).
Week 8 (10/19): Art as Imitation, Art as Truth
Reading Assignment: Aristotle and Heidegger (pp. 26-39; pp. 149-170).
Hamish Fulton Web Site  Land Art: Andrew Goldsworthy
Week 9 (10/26):  Film Viewing: Schindler's List (3 hours!)
            Reading Assignment: Reviews of Schindler List (Library Reserve)
Week 10 (11/2):  Can the Holocaust be a Mimesis?
            Reading Assignment:
            United State Holocaust Memorial
RESPONSE PAPER III:  Is Schindler's List a successful mimesis of the Holocaust?  Schindler's List at least in part adopts an Aristotelian aesthetic of imitation and catharsis.  Discuss how this is so and whether this aesthetic can respond appropriately to the Holocaust.
Week 11 (11/09): Art Transcending the World, or Not?
            Reading Assignment; NA, Plato and Nietzsche, pp. 49-63; pp. 84-101.
Week 12 (11/16): Musical Evening: Music and the Sacred, Rhythm in Music
Reading Assignment: "Form and the Divine Propotion" (On Library Reserve)
Audition: "Years of Pilgrimage" (Franz Liszt); "Requiems" (Mozart and Brahams), "Missa Solemnis (Beethoven), "Wozzeck" (Alban Berg), "Threnody for the Victims of Hiroshima" (Pendrecki)
                Power Point on DivineProportion
Week 13 (11/30): Film and Novel Presentations
Week 14 (12/7): Film and Novel Presentations