Hole 3 - EDUC 545 "Learning and Instruction in the Schools"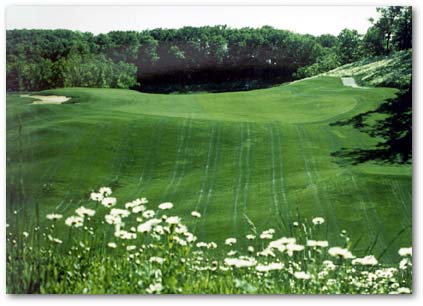 Keith J. Conners, Ph.D.
Description: The identification of classroom problems and issues related to and involving instruction; the development and application of strategies to aid in resolving issues and solving problems; and the coordination of student characteristics and environmental factors to improve the quality of learning experiences in all settings.
Goals of the course: It is expected that students will . . .
Revisit and re-examine the principles of learning and effective instruction covered in earlier professional education coursework; for those who have not previously studied learning theory or human development, considerable independent work may be required to reach the baseline of graduate study in this field.
Test assumptions about learning and instruction which have become part of their repertoire as educators with an eye to extending and reinforcing their research-based instructional strategies (and replacing those strategies which are unsupported by research or recommended practice).
Engage in spirited, open-minded dialog with peers regarding learning/instruction issues and problems. Students are asked to challenge commonly held assumptions and explore new ways to improve the teaching/learning process in settings which are personally and professionally relevant.
Experiment with alternative modes of instruction and assessment; apply innovative strategies designed to maximize student learning.
Share the fruits of their inquiry with their peers and with a professional audience.
Learning experiences/course expectations:
Students will read selected chapters and highlighted sections of the text, guided by instructional objectives prepared by the instructor. Mastery of the content in these chapters will be demonstrated in one of two ways, at the option of the student. Plan A consists of three examinations of about 90 minutes duration each, of which the two highest grades will be averaged. Under plan B, in lieu of examinations, students will submit guided journal-type writing which addresses the content of the chapters and the supplied objectives, and which features student reflections on the relevance and applicability of information for their own teaching. (Note: these reflections are not intended to be chapter summaries, but rather discussions of relevant content in the context of each student's professional life.) [40% of course grade]

Write two short papers (about 3 pages each) on two of the following topics: [20% of course grade]
a. A personal field trip which provides insight on some aspect of learning or instruction. You may go anywhere you want, near or far, so long as you bring with you the eye of a careful observer of learners and teachers. Instruction and learning take place in a variety of settings and we can benefit from taking note of the strategies used by museums, sports teams, workplaces, marketers, entertainers, and others to affect the behavior of "learners."

-- or --


b. A review of internet sources which focus on learning/instruction topics and resources relevant to your personal educational setting. What is available to you as a teacher? How reliable is the information? What uses might other teachers make of the sites and sources you have found?

-- or --


c. A peer observation, appreciation and commentary. You may have access to a teacher in an area school who would be willing to permit you to visit and observe him or her in action. If you choose this option, pick a teacher of considerable experience whose record of achievement is considered to be exemplary in some particular aspect of instruction. Then have a conversation about the subject of focus prior to an upcoming class, observe the class, and have another conversation with the teacher after the class. Write your commentary and reflections about what you observed. You may wish to protect the teacher's identity by changing names and settings to preserve confidentiality.

Prepare either a short publishable paper or article (consistent with the publication guidelines of a periodical) or a conference presentation suitable for delivery at a professional meeting. In either case, this project will include a brief but current review of relevant research on a topic related to learning/instruction and will focus on an instructional strategy, aspect of learning, or a teaching/learning approach of value to your professional peers. The emphasis in the paper or conference presentation should be to inform professional peers of some aspect of learning/instruction which may be relevant and useful to them. Evidence of formal submission of the project, such as a cover letter to a professional journal or conference program committee, will be turned in along with the final project. At semester's end, students will share the fruits of their efforts with the class by distributing copies of the paper/presentation and by presenting an abbreviated version of their work. During the second or third week of the summer session, each student will schedule a one-on-one conference with the instructor to discuss this project and other aspects of the course. [20% of course grade]

Participate actively and cooperatively in class discussions and activities. [20% of class grade] Students will be expected to:
a. Engage in seminar-type discussions in every class related to issues in learning and instruction. Some discussions will follow from text material, and others will be generated on the basis of personal insight and reflection about "what works" and "what frustrates" teachers and learners.
b. Present a brief mini-lesson of about 20-25 minutes duration which highlights some aspect of learning or instruction. (If two students wish to collaborate on a mini-lesson of somewhat longer duration, this is an option.) The mini-lesson may represent any of three perspectives by the presenters: 1) this approach seems to work with my students -- let me share it with you for professional reaction and validation; 2) this instructional activity has been problematic for me and I would like some feedback from a trusted peer group to help me find out what might be improved; 3) here's a bright idea I have that I would like to test with a simulated group of learners before I try it with actual students.

Prior to the mini-lesson, the presenter(s) will "set the scene" for the lesson, frame the instructional strategy in terms of theory and research, and indicate the kind of feedback sought. Immediately after, the presenter(s) will receive individual written feedback from class members and will participate in an open discussion about the lesson.
Assumptions and expectations:
"Learning and Instruction" are the heart of what education is all about. The focus of the course will be on improving the intentional actions of teachers which affect the ways in which students learn. We are not bound by any set model of teaching or learning, nor by any expectation that all teachers work with the same kinds of students.
As you are students in a graduate course in the Master of Education curriculum, I assume that you have had some prior formal coursework in educational psychology, learning theory and/or pedagogy.

It is further assumed that much of what we may have learned in such an undergraduate class years ago has been forgotten, or at least has been tempered by life experience to such an extent that the original level of understanding may need refreshment.

The textbook, Learning and Teaching, by Kauchak and Eggen will serve as the framework for refreshing and extending our common knowledge base in the course. The instructor will prepare instructional objectives for selected chapters in the text which will guide students' reading, journal writing and preparation for class. Examinations based on this highlighted material in the text will be used to reinforce and assess students' mastery of essential information and concepts.

This class must not be boring. Talking and thinking about teaching and learning can be one of the most fascinating things we do professionally. We will use the weekly class meetings in a variety of ways, including some direct instruction, some reading/writing time, some open discussion, some guest visits, some library work, some walks to the library or computer lab, some refreshment breaks, some conferencing with individual students, and some hands-on work on papers and projects. As the instructor, I plan to fulfill the syllabus requirements of presenting a mini-lesson and producing a publishable paper/conference presentation during the semester as well.
Text: Learning and Teaching: Research-Based Methods, 3rd ed. Kauchak, D.P. and Eggen, P.D. (Allyn and Bacon, 1997)
Grading:
A=93-100%
B+=88-92%
B=83-78%
C+=78-82%
C=70-77%

Play through -

Hole 4: EDUC 560 "College Teaching"
Return to home.

To write to me, click here.