Hole 4 - EDUC 560 "College Teaching"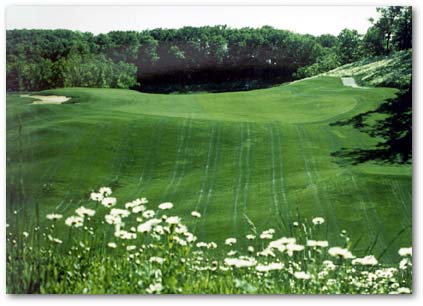 Keith J. Conners, Ph.D.
Course Description: This course offers a research-based investigation of theories and practices involved in teaching in institutions of higher education. Intended for graduate students aspiring to college teaching or academic leadership positions, the course will examine the roles and responsibilities of college instructors with an emphasis on practical applications in college and university settings.
Text: McKeachie, W.J. Teaching Tips: Strategies, Research and Theory for College and University Teachers (1998)
Course Objectives and Learning Experiences: Students will . . .
Review research-based principles of effective instruction in a college setting by reading, observing, reflecting on, and discussing aspects of teaching in college and university classrooms. Guided reading assignments in the text will be provided, and students will submit journal-style entries for review bi-weekly. (see below) Journal entries will NOT be summaries of the reading assignment, but rather personal reflection on the relevance of the reading to the student's own college teaching interest and/or questions suggested by the reading which may be considered in small group or full-class discussions. Because of individual student perspectives, some journal topics may be addressed in greater detail than others. The instructor reserves the right to give a weekly quiz on chapters assigned for reading, but he assumes that students will address reading and journal writing assignments thoroughly without such coercion. We will also consider issues related to college teaching through a simulation exercise based at a fictitious "Huxley College."
Demonstrate appropriate planning for college instruction by developing a course syllabus and instructional plan for a semester-long 3 or 4-credit class. Students will develop a plan for instruction which details course content, objectives, resources, instructional strategies, and assessments. The syllabus developed will represent a new course or a significant renovation of an existing course. The instructional plan will include a semester-long schedule of topics and learning experiences, the equivalent of one full week's detailed lesson plan, and at least one instructor-designed assessment.
A. Simulate aspects of college teaching by conducting a "micro-lesson" with a partner on a topic selected in consultation with the instructor of approximately 15-20 minutes duration. Students will also prepare a brief statement of the intent of the instructional activity, the context in which it would occur, and other background information needed to orient the class to the instructional setting. The objective of this assignment is not to "show off" one's best lesson, but rather to extend or add to the student's teaching repertoire.

-- OR --


B. Submit a 30-minute video-taped lesson and 3-4 page self-critique which illustrates an instructional innovation or modification of your teaching repertoire.
A. Reflect on exemplary practice among college teachers by observing for at least 3 hours a "master teacher" at the college level and by analyzing and reflecting on this teaching, including information gleaned from a pre- and post- conference with the instructor. Students will make arrangements to interview an experienced teacher with a track record of effective instruction about his or her work. After securing the instructor's consent, students will observe and analyze approximately 3 hours of instruction and discuss with the master teacher the instructional strategies used in light of text readings and class discussions, culminating in a 4-6 page paper. Note: the "master teacher" will not be a relative or close personal friend.

-- OR --


B. Review and critique a college or university course delivered in a "distance learning" format. Students will describe the audience, format, and instructional strategies of the course and interview instructors and students regarding its effectiveness and potential.
Produce a "professional development project" related to college teaching with a research component on an approved topic. A variety of approaches to this assignment may be considered, depending upon the student's current involvement in teaching and his or her career orientation. A publishable article, a workshop or conference presentation, or a policy proposal for the Huxley College simulation are possible options.
Demonstrate comprehensive mastery of course content by taking a mid-term and/or a final examination covering course content. The exams, which may feature both objective and subjective questions, will be tailored individually for each student in the class and will reflect common elements of course content and issues of college teaching in different settings. Students whose journal writing, participation and written assignments have been exemplary may be exempt from one or both exams. The exam option may also be used by students who need to miss class time during the semester, or whose schedules preclude the timely submission of journals and other assignments.

Evaluation:

| | |
| --- | --- |
| Journals, micro-teaching/video and contributions to discussion: | 30% |
| Course syllabus and instructional plan: | 20% |
| Master teacher appreciation/distance learning critique: | 15% |
| Professional development project: | 15% |
| Examinations: | 20% |