Hole 5 - EDUC 561 " Seminar: Issues and Trends in Post Secondary Education"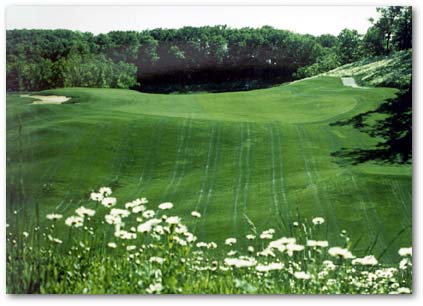 Keith J. Conners, Ph.D.
Description: The seminar presents opportunities for research-based examination of selected current issues in post secondary education and for students to share the efforts of their investigations on topics of interest.
Objectives: Students will . . .
Research and consider contemporary issues in post secondary education in light of historical and philosophical traditions in the field.
Read, reflect, observe, question assumptions, argue and defend positions on important issues in post secondary education.
Summarize and report on the current research related to one major issue in education.
Relate developments on the local, regional, national and international scenes to educational policy and practice in higher education and adult education.
Formalize their understanding of issues by writing and reporting in class.
Learning Experiences: Students will . . .
Prepare a background report and advocacy recommendation for a proposed policy issue in the area of post secondary education. This project will be explained in class and covered in a detailed handout. A significant portion of the project will involve surveying current research and writing on the issue and incorporating this information into the report and policy recommendation.
Take a personal field trip to an approved post secondary education institution, meet with leaders and others involved in some significant aspect of the institution's program and write a 3-4 page essay which reflects on the insights gained.
Monitor throughout the semester the Chronicle of Higher Education, as topical issues from that publication will be discussed weekly. Students may subscribe to the Chronicle or may avail themselves of copies of the publication found in libraries or various offices on this or other college campuses.
Read as directed in the text, Chronicle and other handout materials.
Submit at least 5 written "journal" entries of personal reaction/reflection on post secondary education issues encountered during the semester. Three of the journal submissions may be submitted long-hand and without regard for excessive correctness in terms of spelling, organizaton, etc. However, two of the journal submissions should be carefully crafted and typewritten -- in effect, short papers of perhaps 3-4 pages. The inspiration for journal writing may be news stories in the Chronicle, the writing of syndicated columnists, your personal field trip, various chapters in the texts, contributions of guests, situations encountered in your professional life, or previous class discussions. We will devote a portion of every class period to small group discussion of issues raised in journal writing. The instructor will read and react to submitted journal entries prior to every class period. Grading of journal writing will be holistic based on the full complement of five entries over the course of the semester.
Provide the leadership for one seminar discussion, alone or with a partner, on a topic approved by the instructor. This topic may coincide with your research interests or a portion of your journal writing, or you may select a subject from the list of weekly topics included on the syllabus.
Present at semester's end a brief oral report on the post secondary education issue which has been the primary focus of your library research throughout the semester.
Expectations/Guidelines:
Students will bring to the seminar ample measures of openness, respect for the views of others, skepticism, curiosity, civility, and occasional passion. It is expected that students will read actively throughout the semester in the texts, in the professional literature of their field of interest, in daily newspapers and weekly newsmagazines, and in other sources as appropriate.
Active participation in seminar implies regular contribution to discussion. Among the forms of appropriate contribution are personal experience, observation, and opinion. More valued contributions take the form of objective factual information, the documented findings of scholars and researchers, the published opinions of experts, and thoughtful questions suggested by serious reflection on a topic.
A seminar is not a lecture course, and the instructor makes no claim to omniscient insight on all educational issues. Rather, the nature of a seminar suggests shared perspectives, debate, questioning, and occasionally spirited controversy in which students and instructor participate mutually.
An "issue" is a topic or question about which reasonable people may hold differing points of view. The seminar will attempt to focus on educational issues which have been and continue to be debated by the public, by policy-makers and by the profession.
Writing is an integral and visible part of the critical thinking process. As such, student writing as outlined above is intended to assist in the development of ideas as well as in documenting positions on an issue. In addition to the assigned writing requirements of the course, we may occasionally write in class as a means of reflecting and organizing thoughts prior to or following discussion.
Seminar leadership implies preparation to moderate and guide discussion for approximately one hour. In so doing, students will:

a. identify a reading selection from the text or other source in advance of the class meeting (students may recommend supplementary readings if appropriate);
b. frame and focus the issue at the beginning of discussion;
c. invite and encourage participation from all members of the seminar (attention to grouping for small group discussion is recommended);
d. keep debate focused and balanced as moderators during the session;
e. provide closure, and solicit "reflective questions" from the group which may be addressed in future discussions.

There is no deadline for submission of the major report project or field trip essay, except for University regulations regarding incomplete grades. However, students who wish the opportunity to make revisions to their writing must submit it by mid-semester. In order to receive a grade in a timely manner this spring, all written work and journals must be turned in by Monday, May 5th. Journal entries should be submitted on a balanced schedule throughout the semester to provide a vehicle for regular reflection on topics and issues encountered in outside activities, reading and class discussions.

Texts: Lucas, C.J. Crisis in the Academy (1996)
Chronicle of Higher Education (current issues throughout the semester)

Evaluation:

| | |
| --- | --- |
| Policy proposal project | 30% |
| Field trip essay | 10% |
| Journal writing | 30% |
| Seminar discussions/leadership | 30% |

Play through - Hole 6: EDUC 565 "Internship in Post Secondary Education"

Return to home.


To write to me, click here.