Nursing Department Faculty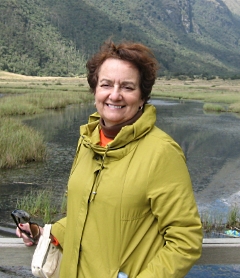 Voncelia S. Brown (PhD., R.N.)
Associate Professor
Office: Devilbiss Hall Ė Office 238
Telephone: 410-548-4784
Fax: 410-548-3313
Email: vsbrown@salisbury.edu
Bio Information:
I am an Eastern Shoreman. Although my first nursing education was in the diploma program at Union Memorial Hospital in Baltimore I have always had sand in my shoes. I returned to the Shore in 1973 as a newlywed and have always loved living here. The focus of my clinical practice, my area of expertise and my passion is the health and wellness of rural populations.
Institutions attended:
I have a Bachelor of Science degree (in nursing) from the University of Maryland which I completed in 1978. I was fortunate enough to be part of a small cohort of registered nurses who were part of an Outreach program offered by the University of Maryland School of Nursing in order to better equip nurses to meet the health care needs of the Eastern Shore because there were no existing BSN programs at that time. I immediately enrolled in the Masterís program at the University of Maryland because I wanted to be prepared to teach nursing , should an opportunity arise. My masterís degree prepared me as a clinical specialist in psychiatric/mental health nursing but I took additional course work to be able to function in a faculty role. I taught for 5 years at Wor Wic Community College and then spent two years in an intense, grant funded psychiatric nurse liaison position at Peninsula General Hospital. I left the hospital to return to academe at Salisbury University and I have taught community health nursing here for many years. I completed my Ph.D. in Human Development in 2003 at the University of Maryland, College Park. My research focused on staff nursesí responses to impaired and substandard clinical practice.
Areas of Interest:
I am a global citizen and have traveled much of the world. Traveling with students affords me the opportunity to promote cultural competence and cultural congruence in health care practitioners. I regularly offer a January elective course in order to meet this goal. I also focus on promotion of mental health in community based older adults and have recently completed research in rural Ontario which addressed depression awareness in this population.
My clinical practice and my personal beliefs have been guided by systems theory and thinking. Although it is complex, I have found it personally useful. Periodically I teach courses related to family systems theory to our Doctorate of Nursing Practice students.