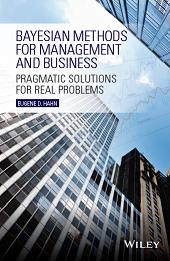 Bayesian Methods for Management and Business: Pragmatic Solutions for Real Problems
Bayesian statistical methods for data analysis have surged in popularity in recent years. Bayesian statistics have been used in many disciplines to reveal new insights and understand difficult problems. However, to date they have been infrequently used for most kinds of business and management problems.

In this book, Bayesian methods are used to examine real-world data arising in business areas such as strategy, international business, accounting and information systems. A practical problem-solving approach is used and the reader is shown how to use freely-available software tools to answer business questions using data arising in the business environment.